What Is the Difference Between Palliative Care and Hospice?
You will frequently hear the two phrases used together, but there are some important, distinct differences.
While hospice care is for the last six months of life, palliative care can begin any time someone has been diagnosed with a serious illness, such as ALS, cancer or heart failure.
It's important to remember this when considering the difference between palliative care and hospice.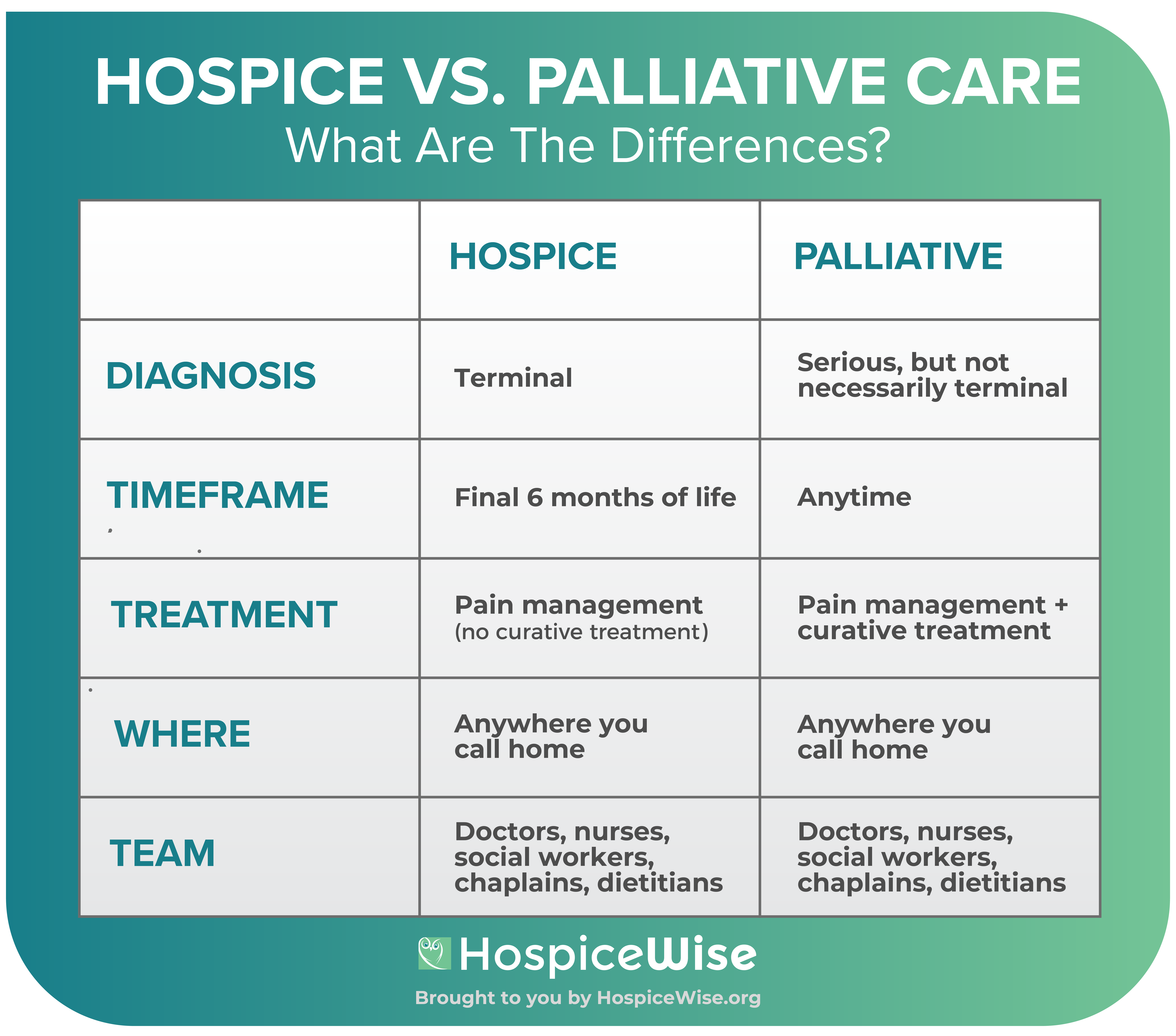 Other Differences Between Hospice and Palliative Care
Hospice begins after treatment for the disease has stopped. This means there can be no more curative care, or efforts to stop the disease from progressing.
However, during palliative care, patients are frequently still being treated for the illness.
Palliative care can also be given at any stage in the illness.
By comparison, patients only enter hospice care when the illness is at its advanced stage.
What Hospice and Palliative Care Have in Common
There are a few things that hospice and palliative care have in common. Both seek to provide comfort care. This means helping make sure the patient is as pain-free as possible.
Both also have a comprehensive team of health care workers on hand to provide assistance. This includes:
Doctors
Nurses
Social workers
Chaplains
Dietitians
Both also help with any psychological or spiritual challenges patients undertake when faced with a life-limiting illness.
What You Need to Know About Palliative Care
When you receive a serious diagnosis such as cancer or kidney disease, you can sign up for palliative care by speaking with your doctor or members of your health care team.
Palliative care is important because these serious illnesses affect much more than the body. In many cases they transform the lives of those around you. They may even lead to issues of faith or cause depression. This is why it's important to start palliative care as soon as you get a diagnosis.
Can You Leave Palliative Care?
Palliative care is to help alleviate the symptoms of a disease while you're receiving treatment for it. Depending upon the disease, it may be cured or in remission. As a result, you may no longer need palliative care.
However, if your disease returns, or if you're diagnosed with another serious illness, you can once again choose to receive palliative care.
How Old Do You Have to Be to Receive Palliative Care?
Anyone of any age with a diagnosis of a serious illness can have palliative care
At What Stage Must the Disease Be Before Receiving Palliative Care?
You qualify for palliative care from the moment you're diagnosed.
When Should I Move From Palliative Care to Hospice Care?
First, let's be clear.
Palliative care is compassionate care. This means care concentrates on symptom and pain relief. The goal of palliative care is to improve the quality of life in patients.
Hospice care also utilizes the principles of palliative care, which means they concentrate on symptom relief.
However, hospice care begins only after curative treatments have stopped. Your health care team will work with you to determine the course of your disease. If you have any questions about when hospice care would be appropriate, we encourage you to speak with them.
Still Unclear About The Difference Between Palliative Care and Hospice?
Ask your health care team!
They are an important source of information. Remember that it's important to take an active role in your health care. An important and vital part of the treatment process is communicating with your team and asking questions.
Want to Separate Fact from Fiction? Trust Hospice Wise
We understand that when it comes to hospice care, there are a lot of questions. Sadly, there's also a lot of misinformation out there.
We want to give you a reliable resource that will help you, so we created Hospice Wise. Our site is full of educational articles covering everything from myths about hospice care to answering who pays for hospice.
If you're interested in learning more, just sign up for our email newsletter by entering your email in the box below.
You'll get high-quality, factual information delivered right to your inbox.
Simply share your email address in the box below and you'll receive a welcome email confirming your subscription within a few minutes.
Then, you'll receive a couple of emails over the next few days providing clear answers to the top questions about hospice care.